30/11/2019, Annual General Meeting.
Permolat Southland is due to have it's A.G.M. in the near future, it will be held at the home of Stanley Mulvany 96 Redmayne Road Myross Bush off Bainfield Road. Everyone is welcome. we will be looking at electing 2 or 3 more Trustees so come prepared to serve Permolat Southland Trust in a greater capacity. we will publish a date closer to the time.
24/11/2019, Weather problems.
We are looking to go into the Tautuku Hut as soon as possible but the weather is just not playing ball. the Polar Vortex is giving us a lot of wet weather, (we have had just 8 fine days this month), we are struggling to get a run of 5 fine days to go in and repair the Tautuku Hut.
24/09/2019, Forks Hut trip.
Hi all I am looking to get into Forks hut North of the Mavora Lakes on the upperWinton Burn one weekend in the near future and am wondering if a Permolat Southland follower who has a 4WD would like a trip in there. We need to do s survey of the hut with a view to doing a make over, please contact me,Alastair Macdonald.
13/09/2019, Here is a link to an article on the historic huts of DoC's Southland conservancy.
This is a very interesting article by DoC, its 94 pages long so we cannot post it on our web page but here is a link for you to download it if you are interested in the history of huts in Southland and what DoC is doing to preserve them..
Southland Recreation Huts Heritage Assessment 2007
10/09/2019, Track cutting  in Milford Sound and Deep Cove.
Calling all track cutters. We are looking for two track cutters to travel to Homer Hut and then on to The Bowen River in Milford Sound to help cut the trapping line, we will be using all hand tools, loppers, pruning saw and a bow saw for larger branches. We will be going in the first fine spell after the 18th of September, (it will be during the week so you would need to be free), Contact me if you are available.
An advanced notice of track cutting in Deep Cove also for a week in October. six tracks to improve and cut over there. let me know if you are up for it.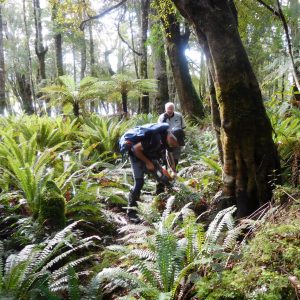 15-16/08/2019, Tautuku track and Hut.
Three people went into Tautuku Hut on the 15-16/08/2019 to cut the track and clear a toilet site, here is the report:
"We did 24 volunteer hours work all up over the two days
We trimmed up the track and added about 30 orange triangles to make the track easier to follow
We cleared several small wind falls and cut a new section of track around a huge fallen tree.
At the hut we cut a track and cleared an area 30 mt above the hut in preparation for the placement of a future toilet and cleared some bush close to and overhanging the hut.
We also cleared the grass away from around the front steps of the hut.
There was a lot of moisture in the hut when we arrived especially along the ridge beam which was wet in places and there was a puddle on the floor between the door and the bench, (there was a lot of condensation on the roof tin and this could be the reason for the puddle. we may have to remove the roof and renew the building paper when we do the makeover)."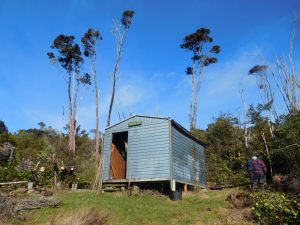 16/07/2019, Teal Bay Hut.
We just got the go ahead from DoC to put a porch on the front of Teal Bay Hut. We will be working towards that, at the planning stage at this point. It will be as wide as the hut and come out 4 meters, basically covering the shingle square out front of the hut, we will create a plan and get full DoC permission in the next several weeks. If you would like to donate towards this project message Permolat Southland for details.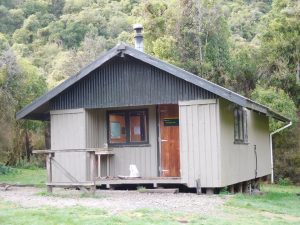 9/07/2019, Caroline Hut
We finished all the jobs on Caroline Hut except the painting, check out the Hut Report   HERE