15-16/08/2019, Tautuku track and Hut.
Three people went into Tautuku Hut on the 15-16/08/2019 to cut the track and clear a toilet site, here is the report:
"We did 24 volunteer hours work all up over the two days
We trimmed up the track and added about 30 orange triangles to make the track easier to follow
We cleared several small wind falls and cut a new section of track around a huge fallen tree.
At the hut we cut a track and cleared an area 30 mt above the hut in preparation for the placement of a future toilet and cleared some bush close to and overhanging the hut.
We also cleared the grass away from around the front steps of the hut.
There was a lot of moisture in the hut when we arrived especially along the ridge beam which was wet in places and there was a puddle on the floor between the door and the bench, (there was a lot of condensation on the roof tin and this could be the reason for the puddle. we may have to remove the roof and renew the building paper when we do the makeover)."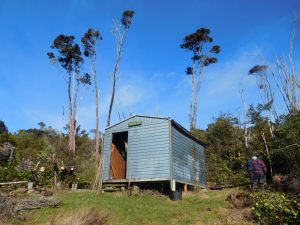 16/07/2019, Teal Bay Hut.
We just got the go ahead from DoC to put a porch on the front of Teal Bay Hut. We will be working towards that, at the planning stage at this point. It will be as wide as the hut and come out 4 meters, basically covering the shingle square out front of the hut, we will create a plan and get full DoC permission in the next several weeks. If you would like to donate towards this project message Permolat Southland for details.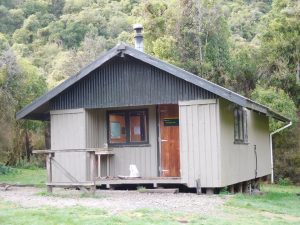 9/07/2019, Caroline Hut
We finished all the jobs on Caroline Hut except the painting, check out the Hut Report   HERE